The Leading Name for Air Conditioning Services in Northeastern Washington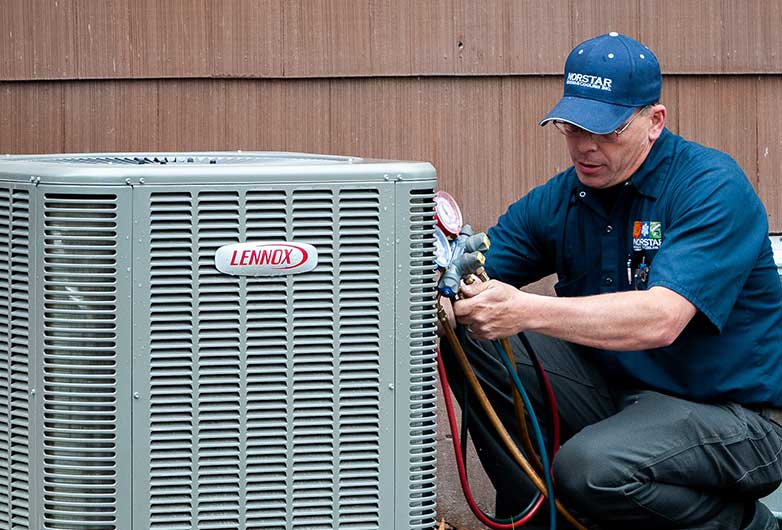 Norstar Heating and Cooling provides a full range of air conditioning services in Northeastern Washington and nearby areas. This includes installing new air conditioning systems, equipment repair, and routine maintenance. Our HVAC experts can help you select the best systems to meet your residential or commercial indoor comfort needs. In addition, we will quickly get your air conditioner functioning when you work with us.
Since 1994, our company's daily objective has been to provide all our clients throughout the areas we serve with high-quality AC solutions. Given our team's combined 40 years of experience, you are assured of reliable air conditioning services at all times.
Air Conditioning Preventive Maintenance
For an air conditioner to operate successfully and efficiently throughout its service life, frequent maintenance is required for the coils, fins, and filters. You can schedule a maintenance appointment with us, and one of our skilled technicians will clean, adjust, and test the effectiveness of your entire system as part of the inspection. We will ensure that your unit is operating at optimal levels and there are no underlying problems.
Air Conditioning Diagnostic and Repair Services
During an AC diagnostic, we inspect your air conditioner belts for cracks, the compressor for leaks, the unit parts for connectivity, and the entire system for low pressure. Our service team may also drain and recharge your system with refrigerant, following the manufacturer's specifications. Using our professional leak detection tools, we will identify and fix the issues affecting your air conditioning system. Call us immediately if you see any early warning indications that your unit needs attention.
Air Conditioning Replacement Services
If you have an outdated unit or simply require a replacement, Norstar Heating and Cooling will ensure that you get an air conditioner that is properly sized for your home or commercial space. Our technicians will handle the setup, making sure that everything is connected properly. We will also take you through a detailed tutorial on how to care for your unit and operate the thermostat. Therefore, you will be able to understand your new air conditioning unit.
Benefit from Our Professional Air Conditioning Services
Our experts provide air conditioning services throughout the entire life of your equipment. Therefore, you get to gain the following:
Take Control and Get Comfortable
Contact Norstar Heating and Cooling to benefit from air conditioning services that fit your needs and budget. Feel free to call our team or fill out the form for an appointment.